Practice DMV Test Questions
Our DMV approved internet driver education course has two primary focuses. One, our course will give your teen the knowledge they need to be a well-rounded, safety-driven driver. Second of all, our course will help teens get a passing grade come exam time at the CA Department of Motor Vehicles. Free with our online course, teens get access to our DMV practice test generator where no two tests are exactly the same. Past studies have illustrated that students who complete practice quizzes prior to their actual DMV permit exam have a better chance of passing their actual learners permit test on their first attempt.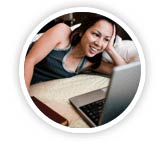 Why Taking CA DMV Practice Exams Is Important
Take as many practice tests as you want, there's no limit to how many tests you can take


Our sample practice test section also has information on helpful tips to keep in mind on test day


Sample test questions are multiple choice, just like the permit test at the DMV


See similar test questions to exam questions that will appear o your actual DMV test
Reading the DMV Drivers Hand-book
Your driver handbook also has additional information about auto insurance regulations, DMV forms, and what to do in the event of an accident


If you have memorized the CA DMV driver handbook then you should be able to ace your written permit test.


Driver handbooks also contain complete picture guides for all road signs (which are part of the written permit test).


Not only should you have a copy of the DMV handbook, you should probably read it more than once to fully absorb the information.